Vladimír Faltus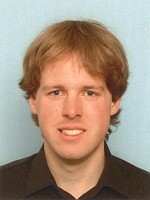 Ing. Bc. Vladimír Faltus, Ph.D.
Place of Birth: České Budějovice (Budweis), South Bohemia.
Profession: University Teacher
Working Address: Czech Technical University in Prague (CTU), Faculty of Transportation Sciences (FTS), Department of Control and Telematics, Konviktska 20, 110 00 Prague 1, Czech Republic.
Teaching Experience: A part of lectures and tutorials of courses: Road Transportation Control Systems, Traffic Intelligent Systems and Traffic Telematics, Intelligent Transport Systems; head of "Application of Control Systems Rockwell Automation in Transport" students' project.
Research Branch: Land transport control systems & related questions of intelligent transport systems. Road and rail traffic management, traffic network modelling and control.
Education and Degrees: Student of doctoral study programme Engineering Informatics at CTU FTS; 2005 Ing. (master degree) at CTU FTS, Transportation Engineering and Communications, Automation in Transport and Telecommunications; 2006 Bc. (bachelor degree) at CTU Masaryk Institute of Advanced Studies, Specialization in Pedagogy; Pedagogy for Tutors of Technically Oriented Subjects.
Credo: Every day is good to improve anything.
Interests: Transport, IT, music, travel.
Awards and Appreciation: 2003 Josef Hlávka's Award for successful students of Czech universities; 2004 Prof. Ing. Dr. DrSc. Jaroslav Vlček's Award (1st place) for the diploma thesis "Design and Implementation of Control Algorithms for Railway's Interlocking Plants"; 1995 winner of mathematic olympiad in the South Bohemian region.
Some of Publications: Faltus, V.: Využití systému C2I pro management dopravy ve městě [Research report]. Praha: ELTODO, 2008. 265/08; Bělinová, Z. – Faltus, V. – Wosyka, J.: Palubní jednotky – další využití, In: ITS Bratislava 2008. Bratislava: Technologies & Prosperity, 2008; Bělinová, Z. – Faltus, V. – Svítek, M.: Samostatný obor ITS na ČVUT, In: Telematika pro regionální dopravu 2008. Skalica: KPM Consult, 2008. ISBN 978-80-904167-0-3; Faltus, V.: Aplikace Petriho sítě při modelování dynamického řízení křižovatek, In: Automatizace. Praha: 2005, roč. 48, č. 2, s. 88-91. ISSN 0005-125X; Faltus, V.: Návrh a implementace řídicích algoritmů železničních zabezpečovacích zařízení [Diploma thesis]. Praha: ČVUT v Praze, Fakulta dopravní, Katedra řídicí techniky a telematiky, 2005.
Contacts: faltus@fd.cvut.cz; www.lss.fd.cvut.cz
Document Actions